Men and hawks frienship day – January 28, 2018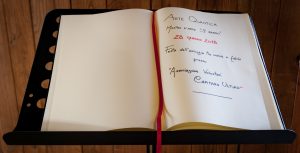 ""Birds of prey" – Man-hawk friendship day
Arte Quantica Association's Collective Exhibition
January 28th – February 2nd, 2018
Associazione Volontari Capitano Ultimo Onlus. Via della Tenuta della Mistica, Rome
Big celebrations last Sunday at the Tenuta della Mistica, home of the Associazione Volontari Capitano Ultimo Onlus.
The park's relaxing atmosphere set the stage for the inauguration of Arte Quantica Association's painting exhibition on man-hawk friendship, which will last for the whole week.
The Tenuta della Mistica's care home residents practice falconry as an educational tool to help them rejoin society. At the Tenuta della Mistica's birds of prey center "Ultimo Volo" (Last Flight), they learn to respect nature and love animals.
Arte Quantica's Artists exhibited few paintings, inspired by the birds of prey topic, and donated them to the Associazione Volontari Capitano Ultimo Onlus for support.
During the inauguration, the Onlus founder and president, Commander Ultimo, warmly thanked everyone, especially Danilo Speranza, founder of the Arte Quantica movement and the Association Scienza per Amore: "Doing this is a gift from God.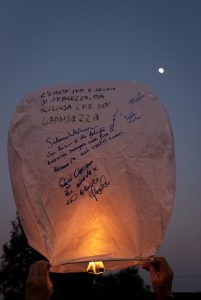 You do not use this gift to be noticed, to become important, to gain some wealth for yourselves. You give it to the poor, to people that lost everything, even their identity. To us who have faith, this is a sign from God. But to those without faith it means even more: it's an example of commitment and being humane".
Architect Giandomenico Cammarata also said a few words on the exhibition's topic: "An artistic movement uses many symbols to express profound messages. The hawk is a symbol which invites people to be open to life's gifts…"
Salameh Ashour, cultural and spiritual chief of the Palestinian community of Rome and Lazio, thanked Commander Ultimo and Danilo Speranza for the invite: "We all fly with the hawk of love, which prevails above all: above resentment, hate, injustice, above life's small things, and puts us in a transcendent state, in the world of light and beauty…"
After a break for lunch with a crowd reaching more than two hundred souls, the sunny day continued with an exhibition of hawks and other birds of prey flying in their dedicated area. At sunset the sky became suggestively crowded with many flying lanterns. The lanterns were decorated with thoughts and wishes from the boys and girls who live in the care home, and from the guests and the artists who attended the event. The symbolic finale, representing the connection between man and hawk, sky and earth, concluded the eventful day.
Arte Quantica thanks Commander Ultimo and his volunteers for this opportunity to share brotherhood and solidarity.