Art and cooperation
Art Project, Bridge Connecting Continents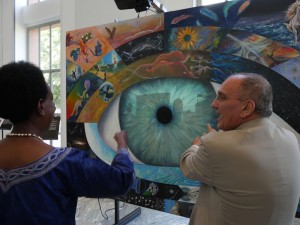 The project comes from an idea about the role contemporary art plays in responding to some global problems such as energy and food security, and environment safeguard. A role that cannot be limited to debates and speeches aimed at making people aware but has to take concrete action to support sustainable development.
Bridge Connecting Continents initiative supports Bits of Future: Food for All, an international cooperation project aimed at helping developing countries, starting from the African continent.
Bridge Connecting Continents aims to create a common ground and to facilitate interaction between Italian and African artists, through the creation of large paintings by multiple hands.
The core of this idea is sharing the richness that every different culture contains. It is an opportunity to connect through those deep values which are common to every creative experience, regardless of the different traditions and media used.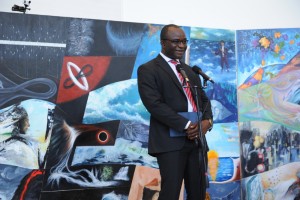 African art is the expression of a rich, dynamic and multifaceted reality. For this reason we would like to start our collaboration with artists that reflect the many historical and cultural facets of the continent.
The choice of Africa also comes from our friendship with African communities in Rome. Such relationship came through collaborations with African governments and embassies within the context of the cooperation project Bits of Future: Food for All. Arte Quantica and has been supporting the project together.
The association Arte Quantica will take care of promoting the artworks through international exhibitions and events. Neither the production nor the promotion stage will require any financial support by the artists.